The charts here seem to have to incoming and outgoing colors inverted.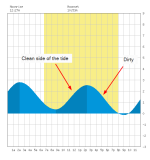 For example the slant from low to high tide is darker. The slant from High to low is lighter.
For me and everyone that I have worked with, this is counterintuitive .. The incoming tide (low to high) is when the cleaner water is coming into the inlets \ rivers \ etc..